Today, we're going to talk about the one thing that has had the biggest impact on helping me build a successful Facebook advertising agency. I believe it's the most important skill that an entrepreneur can have, and it's how to stay motivated from day to day… in other words, how to keep your mojo on full throttle!
We are all human beings and we have those moments when,­ let's be honest,­ our motivation is in the crapper. We don't feel like working, we don't want to get out of bed, we don't want to do anything besides lay there in our jammies and play Xbox or watch Netflix.
So, today I'm going to give you action steps on how to break this cycle, and replace it with habits that will lead you to success.

1. Invest your time in others who motivate you
If you're hanging out with people who are broke, unmotivated to make big moves, and are complacent living paycheck to paycheck, just getting by, then pretty soon you will start thinking like those people and becoming like those people.
This might sound cliché, but it's true. You're the average of the five people you hang out with the most. What's cool about the age we live in now, is that we have the Internet and it allows you to create your environment and relationships without geographical boundaries holding you back. You can hang with people who challenge and motivate you to be the best you can be.
I'll give you an example of my morning routine. When I wake up, I roll over, grab my phone, start looking at emails and texts and then Chromecast a talk by someone like Tony Robbins or Tai Lopez on my TV. Those high­ octane talks on marketing, business, sales, and personal development help get my mind right for the day.
It's extremely important that I start my day this way, because not long ago, I was in a spot
where I didn't know anyone who was super successful! I knew of some people, but I wasn't hanging out with anyone that was super successful. So, I felt like I was trapped in this pit of shittiness, where everything and everyone around me was shitty. We had shitty habits, we did shitty things, and we had shitty goals. Pardon my french, but I don't know how else to describe the hole I was in at that point.
But the second I realized that I was investing my time in the wrong people, and started following successful public figures online ­­ who lifted me up, challenged me, pushed me to be my best, to reach for what seemed impossible ­­everything started to change.
2. Create the right environment for staying motivated
When you walk into a room and it's really messy and disorganized, it's really hard to work, right? Just looking at the chaos automatically sucks the energy out of you and puts you in a poor frame of mind. All you want to do is close the door on that room and go find the remote.
The mental shift I experienced (after surrounding myself with positive and influential beings) also translated over to how things are handled at the office. To foster business motivation, besides hiring people with like­minded, entrepreneurial brains, I've intentionally created an environment filled with fun and spontaneity, like Karaoke and the surround system we bought to play loud music in here.
So, about once an hour, if people are starting to lose energy or focus, we stop what we're doing, flip on the music and have a dance party!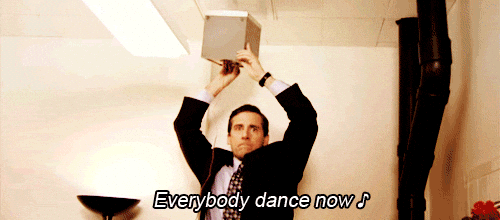 At first glance it probably looks like we're running a nut house instead of an ad agency, but it's very intentional and it really works to keep myself and my employees motivated.
When the person next to you is super pumped up and energetic, it's contagious! And vice versa ­­ if that person is in a shitty mood, that's contagious too. So, if you're hanging out with a ton of negative people who hate their jobs, you bet your ass you will have a negative attitude too.
To keep everyone motivated to do their best, we even like to implement things like the Spin the Wheel.
We have a wheel in the office, and when someone does something cool (it doesn't just have to be performance­oriented), but literally if anyone does something extra cool, impressive, even down to telling a great joke ­­ they get to S pin the Wheel.
While that person spins the wheel, everyone else huddles around, watching. We're all intense because in addition to free meals and other fun stuff, there's also a $100 prize, and a $50 prize.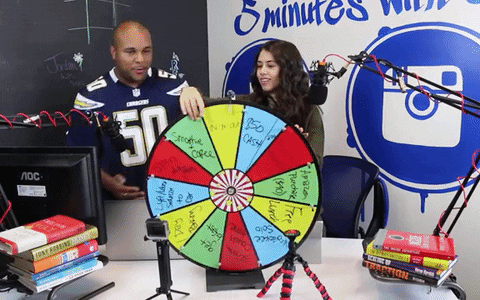 The wheel isn't that big of a deal, it's something pretty small, but it's fun. It breaks the monotony. Doing things out of the ordinary, even small things, helps create a culture and environment that keeps us excited, and motivated in our work.
Another thing I did was paint the words, "Make it Happen", on the office walls as a constant, visual reminder to all of us to not be downers, not be problem ­staters and to succeed no matter what.
3. Fire up employee motivation
Setting clear goals, and clear expectations for meeting those goals are some of the most important things we do for employee motivation in the agency. Everybody knows exactly how many sales we need to be making, where we're at in relation to those goals for the month, and what that means in additional pay for them.
Everyone gets hyped to reach our goals because the goals are clear, and attainable, and there's an enticing reward for meeting them. Everyone feels part of the same vision and that sets us all on fire!
Investing in the right people, creating the right environment, and setting clear goals have, hands down, had the biggest impact on helping my team and I stay motivated to build a multi­million­dollar agency.
Want to create success in your business? Need help to keep yourself motivated?
Get a 7-day free trial to Billy Gene's Gene Pool to unlock trainings on marketing skills like Facebook advertising, sales, video marketing, persuasive writing and automation! Sign up through this link: trythegenepool.com!
-by The Billy Gene Is Marketing Squad